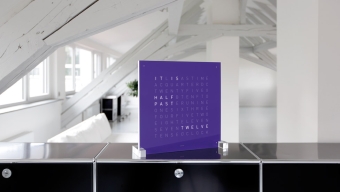 Time Teller
The basic function of a clock — to clearly indicate the time — inhibits design innovation: We need to be able to read all clocks at a glance. But that's what makes Biegert & Funk's Qlocktwo ($1,100) "a unique addition" to the world of timepieces and your office. Rather than displaying numbers, this clever device displays common phrases, such as "It is a quarter past 12." The brightness of the LED readout adjusts automatically so that it's visible in daylight but not overwhelming when the room darkens. The clock is already available in 12 languages; come fall, there will also be a wristwatch version.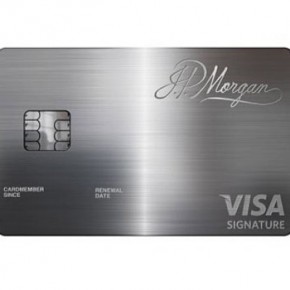 JP Morgan Chase's Palladium Card
If American Express' Centurion "Black Card" is meant for the 1 percent, then JP Morgan Chase's Palladium Card caters to the .0001 percent. Only a couple thousand copies of the ultra-elite credit cards exist, and it costs a reported $1,000 just to make one of the etched palladium and 23-karat gold cards. Not just anyone can apply. For starters, Palladium cardholders must invest at least $25 million with JP Morgan. "We have probably half the world's billionaires as clients," an unnamed insider tells Bloomberg. Something to brag about in the office during your routine check-in at the water-cooler.

Workout while you work
Attention, all "obsessive multitaskers." The Kickstand desk ($1,499) is designed for cycling enthusiasts who want to pedal while they do office work. Just place your bike in a stationary trainer and set the adjustable tabletop to the appropriate height. Slide the top away to adjust the gears mid-workout, or to easily get on and off the bicycle. Despite the moving top, this desk is "sturdy enough that it won't wobble as you pedal." Self-conscious pedalers will appreciate that it's also "less goofy than a treadmill desk."

How the .001 percent network
Luxury goods company Black Astrum's custom-designed business cards (roughly $1,500 per card) are made from hefty Swiss metal and dotted with actual diamonds (a pack of 30 cards includes 30 carats). "We've had several inquiries from American celebrities and international businessmen," says Black Astrum's Sufian Khawaja; "however, our cards are offered by invitation only, reflecting our desire to serve only the most premier individuals."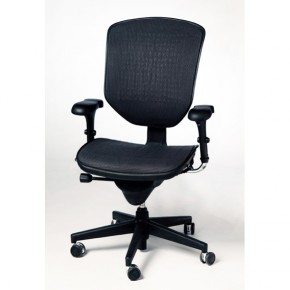 An End to the Office Thermostat Wars?
Finding a room temperature that suits everyone in an office "can be harder than tracking down the Higgs Boson," says Andrew Liszewski at Gizmodo. Well, a new chair from the Arizona firm Tempronics ($1,100) offers a possible fix by putting climate-control decisions "in the hands, or butt, of every employee." Each chair — which has a heating/cooling pad built into the fabric — is powered by a battery about the size of a laptop's, so it might be cheaper to operate a whole suiteful than to upgrade the building's heating and cooling system.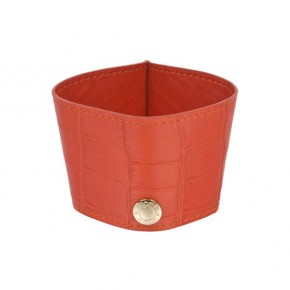 Rika leather cup holder from Jimmy Choo
(Okay, "for the price of this coffee sleeve, you could purchase more than 40 lattes." But if you happen to need a gift "for that hard-to-shop-for member of the 1 percent," the Rika leather cup holder from Jimmy Choo ($165) might save the day. While this over-the-top accessory (available in orange or fuchsia) may appear wasteful, it's at least reusable, and could keep a lot of standard cardboard sleeves from ending up in a landfill. Besides, it's "not made of an actual crocodile."
Source: The Week
Related Articles
Share
About Author
(0) Readers Comments